I hope you had a wonderful Memorial Day weekend for all of you that live in the USA! This weekend, I continued reading "Left for Dead," about the sinking of the USS Indianapolis in World War II, and it made me think about our military that put themselves in harm's way to protect freedom around the world.
The ship with nearly 1200 men aboard was struck by two torpedoes from a Japanese submarine, and in the end, only about 150 men survived after floating at sea for days as sharks encircled them. For some, it was their faith that they clung to as they floated at sea. I cannot imagine what families have suffered as their young sons, husbands, and brothers have died as they have faithfully served our country. Oh dear God, our eyes are on You! Oh, Lord, You are near to the brokenhearted!

I saw this flag last year in Easton, Maryland and knew you would like it, too.
❧ ❧ ❧ ❧ ❧ ❧ ❧ ❧ ❧ ❧ ❧ ❧ ❧ ❧ ❧ ❧
I have been struck with a huge case of spring fever! I wish you could smell the jasmine that is blooming over our garage door! It beckons me outside—saying "come out and play!" It is so divine! Isn't it wonderful how nature obeys him perfectly? The jasmine obeys him perfectly by giving off its fresh, sweet scent!
Don't you think that's what God says to us each day? Not "come out and play," (although, why not?) I meant more that He beckons us to spend time with Him. He calls to us ... by name! "Juana, stop what you're doing, and sit here with Me. Just relish in my presence, thinking about my character and how I love you totally unconditionally."


Our Lord also loves for us to pray! To simply converse with Him! It is my joy on Wednesdays to pray for you. Please leave your non-confidential prayer request in the comments, and I will pray for you. I have left the first one, you are next!
I also host a blog hop on Wednesdays for a time for bloggers to share their blog links! I'd love for you bloggers to share what your God-honoring passions are from marriage to parenting to cooking to gardening to organization to anything that honors God that you are passionate about. I did one, and you are next!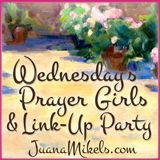 Walk by Faith,