Happy Wednesday to you! It's the day I set aside for us to pray for each other, and the link up party! Just leave your non-confidential prayer in the comments, and I will pray for you. Bloggers, I invite you to link up your blog link so we can all check out your beautiful blogs!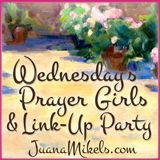 Before we enter our prayers or blog links, let's briefly talk today about the importance of having a place to pray.
Having a place to pray helps us to focus. I remember when I was a new Christian and a marketing representative for Xerox, I would go to a nearby lake at lunch that was five minutes from the office to pray and read my Bible. As I would approach the parking lot, I sensed I was on holy ground. The place has changed over the years from a spare bedroom, to my closet, to the kitchen table—but the important thing is having a place to meet with God.
"I urge you, too, to find a place of focus—a loft, a garden, a spare room, an attic even a designated chair—somewhere away from the routine of life, out of the path of distractions. Allow this spot to become a sacred 'tent of meeting.' "
-Richard J. Foster
Let's don't forget that a place of focus includes a commitment to a group of believers where we meet corporately. Yes, there are times when we cannot meet together, but we need to not give up "meeting together" so that we are part of a body of believers.
"not giving up meeting together, as some are in the habit of doing,
but encouraging one another—and all the more ..." -Hebrews 10:25
We need the accountability and the nurturing, Foster says in
Prayer: Finding the Heart's True Home.
We need to bless others and be blessed by them as we commit to a group of believers and are willing to be identified together. It's a joy to be part of my church! Our Sunday school class (we call them life classes at our church) is like a church within a church.
If you do not attend church, pray and go find one where Christ is lifted up! It is a gift to belong to a community of believers; seek it out and nurture it!
❧ ❧ ❧ ❧ ❧ ❧ ❧ ❧ ❧ ❧ ❧ ❧ ❧ ❧ ❧ ❧ ❧
Time to pray or link up! I've done the first one for you. You are next!
Walk by Faith,
---
You are next...
Click here to enter
This list will close in 4 days, 15 hrs, 35 min (5/27/2013 11:59 PM North America - Eastern Standard Time)
---