Proverbs 31: 30b says,
"... a woman who fears the Lord is to be praised."
A woman who fears the Lord spends time with Him
(as she is able, see italicized note at end of blog for moms of little ones!)
in prayer and reading His word so she does not forget who is in charge!
I'm midway through Richard Foster's book on prayer; he has helped me to see that it's so easy to mistakenly go from thinking
"this work is really significant"
to
"I'm really significant!"
Let's not confuse our work with God's work!
We can commit to having, intentional regular prayer in our lives to help us defeat the attitude of self-importance and other tricks of the enemy that wage the life dependent on Christ that we truly desire as we fall more in love with Jesus. I'm thinking of setting an alarm on my phone to call me to sudden prayer so I learn a new habit of interrupting what I'm doing for a silent prayer.
Foster, in his book,
Prayer: Finding the Heart's True Home
, points out that what is "regular" for you may be different than what is "regular" for someone else for it depends on your personality and your needs. Don't you love that God sees us as individuals and not as a lump of people?
He knows your need! He knows that if you have an urban lifestyle, you probably tend to function around a weekly schedule, as Foster points out. If you live in the country, your lifestyle may tend to follow a more daily schedule. My sister-in-law lives on a farm, and she has alpacas, chickens, and other animals to feed everyday. "A daily prayer discipline makes sense in this context," says Foster.
Many find the early morning to be best.
"... in the morning You hear my voice."
(Psalm 5:3) I take an anti-migraine pill at supper, and super early morning is not my most alert time right now. I can be alert early morning, but just not at daybreak which I think would be the coolest time to meet with God in the still of the day with the first chirping of the birds!
☺
I remember Anne Ortlund once said that she wouldn't dream of meeting with God until she had a shower.
☺
We don't all have to feel the same way, we just need to meet with God at a "regular" time.
In urban life, Foster points out that everything marches toward Friday when the weekly schedule takes a dramatic turn (we are all familiar with the TGIF expression). He suggests a weekly prayer routine. Instead of feeling guilty of not being able to spend extended times of prayer everyday, he suggests that perhaps on Saturday there could be a more relaxed, longer experience of prayer and Bible reading.
I asked Elisabeth Elliot once what she suggested. She told me that she split her Bible reading and prayer up during the week. She did one in the morning and one another time of day. I like doing them together, and I pray immediately after my time of Bible reading. I do like Foster's idea of using weekend time differently for our devotional time with God since weekends are so very different in the culture I live in from the Monday through Friday week.
Perhaps that could mean a nice rhythm to the week of walking and praying on Saturdays or during the weekend, or a visit to a special tranquil spot with your Bible in an extended time with the Lord. Foster made visits to a bench in an indoor rain forest during the winter time that was located near him to provide a special time away with the Lord. I'd love to know what you come up with that is near you!
(Note to those with infants: the baby's demands are huge! Discover meeting God as you are with your baby. He knows you don't have a big block of undisturbed time. He can meet you as you feed your baby when your heart is turned toward Him. The time of an infant passes so quickly and the demands will not always be so immense!)
❧ ❧ ❧ ❧ ❧ ❧ ❧ ❧ ❧ ❧ ❧ ❧ ❧
I love to set aside Wednesday for prayer on my blog. I pray for everyone who stops by on Wednesday. Of course I don't always know who you are and if you stopped in today, but I know the One who knows! So I can pray for you even though I may not know your name!
If you would like to leave a non-confidential prayer in the comments section, I will reply back to your prayer and type my prayer over you as I pray. Just click the blue word
COMMENT
under my signature at the bottom of this post. Feel free to leave something you're thankful for, or update and earlier request.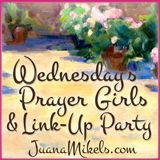 Bloggers, I'd love for you to share a blog link with us! It is so nice to hop from blog to blog to see what like-minded Christians have shared that may help you in a clear way in your life. Enjoy visiting the ladies' blogs below—and if you can't stay long—just pick one that helped you and leave an encouraging note. You know how positive it is to receive an encouraging note!
Let's be iron sharpening iron as scripture says! I completed the first entry below in the blog hop, you are next! I'm off to post a prayer in the comments myself!
Walk by Faith,