Welcome to Wednesday prayer day and the blog Link-Up! I love to pray for you & for my readers to pray for one another, so please share you non-confidential prayer request in the comments section at the end of this blog below my signature.
If you are a Christian blogger, I'd love for you to post your wholesome blog link(s) on any topic in your passions like marriage, parenting, homemaking, homeschooling, organization, Christian living, gardening, cooking, political life, books, or any area of your interest from a Christian viewpoint. Thank you for linking up so others can learn from your beautiful, Christian blogs!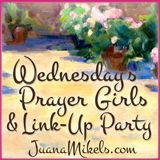 ♥ ♥ ♥ ♥ ♥ ♥ ♥ ♥ ♥ ♥ ♥ ♥ ♥
I know many of you are following along and are looking forward to hearing Part 3 of my good friend Emily's testimony to God on replacing fear and worry with prayer and praise. So let's stop talking and press the play button to hear the third audio installment with Emily!
♥ ♥ ♥ ♥ ♥ ♥ ♥ ♥ ♥ ♥ ♥ ♥ ♥
Wow!
☺
Wasn't that beautiful how the Andrews and Page families rushed to be at the hospital just minutes after news of the accident? Didn't you love how the Andrews sacrificed a family beach trip only to say there was no place else they would rather be and they stayed 24/7?
I loved that the Page family simply put on note on their door that said,"Come on in and help yourselves," just before they left to be at the hospital with Emily and Richard in spite of getting ready to give a dinner party.
That's the body of Christ in action!!
Emily was able to pray and praise God in the storm of her daughter's accident because she had a strong foundation in Christ. She urges us to prepare by staying in his Word, and doing what it says.
"... everyone who hears these words of mine and puts them into practice is like a wise man who built his house on the rock. The rain came down, the streams rose, and the winds blew and beat against that house; yet it did not fall, because it had its foundation on the rock. But everyone who hears these words of mine and does not put them into practice is like a foolish man who built his house on sand. The rain came down, the streams rose, and the winds blew and beat against that house, and it fell with a great crash." -Matthew 7:24-27
Is your life founded on the strong foundation of Jesus Christ? If the winds blew in tonight, can you say that you are standing on the strong rock of Jesus? Are you reading His word daily and drinking it in like a good daily meal? Or do you starve yourself spiritually for several days and only read His word now and then? We would never do that with food, why would we starve ourselves spiritually?
Let's commit to reading God's word every day!
Emily stated that someone has defined joy as the
supernatural delight in the person of God, the plans of God, and the people of God
. Our Savior clearly dictates our joy, not our circumstances! As Emily so earnestly stated,
"God is the giver of joy and our source of joy!"
I'll see you next time for the final installment of Emily's testimony of replacing fear with praise and prayer. You'll see a very special picture of all four of the girls who were in the accident on a very special day. You won't want to miss the last part!
"Rejoice in the Lord always. I will say it again: Rejoice! Let your gentleness be evident to all. The Lord is near. Do not be anxious about anything, but in every situation, by prayer and petition, with thanksgiving, present your requests to God. And the peace of God, which transcends all understanding, will guard your hearts and your minds in Christ Jesus."
Philippians 4:4-7
The Fountain Family: L to R, Preyer, Janie, Mary Norris, Richard, Peter, Emily & Richard
Walk by Faith,