Many of you know that my daughter,
Mary
, and I are in the mountains of Virginia at the Virginia Suzuki Institute. It's a wonderful string camp for kids. Each day at 1:30, over a dozen different students give a solo string recital. All the kids are fantastic! Mary's turn is tomorrow. She is playing a piece called, "Humoresque," by Dvorak.
One reason the Suzuki method of teaching music is so successful is that the parents are very involved in the child's music lesson for the first several years. Did you know the Bible says that
"he who walks with the wise grows wise, but the companion of fools suffers harm
"
?
Yep! It's right in the Bible at Proverbs 13:20.
Parents are the best companions for children. Don't let the world squeeze you into it's mold thinking your children need to constantly be with their peers! You are your child's best companion!
Here's a tip I once heard that may help you each day. Someone once said that everyday a child should have 3 things:
Something to think about.
Something to do.
Something to love.
Something to think about can be reading a verse or passage of scripture or a great, wholesome book.
Something to do can be really simple. It can be taking a walk, riding bikes, doing a chore, giving the dog a bath, creating artwork, or practicing a musical instrument.
Something to love to could be helping with their little sister, playing with the dog, or cuddling their guinea pig.
Enjoy some pictures and a clip from earlier today from camp!
We are doing a lot of walking to get to class!
Our violin camp is being held at Emory and Henry College. It is beautiful up here. This is the view from the building where Mary has her "Master Class" with her teacher and two other students & her group class. Below is a 15 second clip I took today in her group class.
❧ ❧ ❧ ❧ ❧ ❧ ❧ ❧ ❧ ❧ ❧ ❧ ❧ ❧ ❧ ❧
It's Wednesday! I'd love to pray for your requests from the mountains! Let's pray for each other.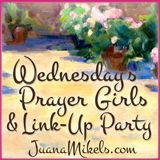 Just type your prayer in the comment section which you'll find under my signature below. Bloggers, please share your beautiful posts in the blog share below as well. May all enjoy browsing and learning from each other.
Walk by Faith,