First off, thank you to each of you who read my facebook message about being out sick. You all are the BEST! Your prayers and you thoughts and remedies meant so much to me!
I got a migraine on Monday from a pulled muscle in my neck and it lingered into Tuesday. It's gone now, but the pulled muscle is still there and I'm going to be quick on my laptop this morning, because I'm a little scared that even the angle I use when I'm on my laptop can hurt my neck.
We're leaving in less than 24 hours to go to the US Open. I'm trying to pack without lifting anything heavy that could trigger the pain again! (yesterday my good friend Brenda drove Mary and me home in my car because I got stuck out of town and couldn't get home with the pulled muscle in my neck) One fb friend said to try ice, so while Brenda drove I held ice on my neck (which seemed to help!) Henni, thank you for helping me last week if you're reading!
I'm so excited to go see my son, John, who is an intern for the USGA this summer. He set up for the US Open (worked 21 of 24 hours the couple days leading up to the opening this week!!). The interns are so busy that the USGA set up a trailer on the course this week so that the interns can sleep in there a few hours before they get back out helping with the tournament!
John adores golf, and he's been sending us texts like when Tiger came week before last to test out the course in the rain! Yesterday he spoke briefly with Webb Simpson, who is from our hometown & went to the same high school as our sons a few years ago (& won the Open last year! He is a believer!), & Ted. (his swing coach and the golf pro where my husband and sons play golf).
I'll try to instagram a few pics from the Open. I'm juanamikels on Instagram. My instagrams feed to my fb (Juana Mikels Ministries) and tw (@JuanaMikels) accounts. While everyone will be trying to catch a glimpse of their favorite golfer, I'l be looking for my hero—my son!
☺
I can't wait to see our daughter, Blair, who is meeting us there, too:-) Some of our family is staying in our home and feeding our dog:-)
It's Wednesday, so let's pray!!! Post your prayer in the comments. Share your blogs below! Bless someone below by leaving them a comment on their blog:-)
Update to this blog, June 12, 2:15 EST: So sorry the blogs below are repeated. To post your blog link, just post it on the first "you are next" below! Scroll to end of the blog to find the comments section above my signature to leave your prayer request!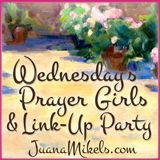 "Make no conditions, let Jesus be everything..." ~Oswald Chambers
Walk by Faith,
---
You are next...
Click here to enter
This list will close in 6 days, 12 hrs, 12 min (6/18/2013 11:59 PM North America - Eastern Standard Time)
---
You are next...
Click here to enter
This list will close in 6 days, 12 hrs, 14 min (6/18/2013 11:59 PM North America - Eastern Standard Time)
---
You are next...
Click here to enter
This list will close in 6 days, 12 hrs, 14 min (6/18/2013 11:59 PM North America - Eastern Standard Time)