Hi friends and fellow bloggers! I pray that you and your family are doing well and pursuing the life hidden with Christ Jesus!
I just returned from being out of town and, boy it is some kind of hard to get back to blogging while getting Mary ready for violin camp, looking for my phone somewhere in the house, washing the clothes, getting groceries, and having extended quiet time with the Lord after being around people for many days (I wouldn't trade it but today was my first day to spend extended time in the Lord's presence!). I was also determined to exercise before I sat at my computer, so I am finally sitting down and it's after 9 P.M.!!!
I also want to share my favorite blog post this Spring. It comes from fellow blogger Jacqueline of
Deep Roots at Home
. I know you'll love the post, too, on the importance of purity before marriage. You will also want to follow Jacqueline's link to her own personal testimony of God's grace. Enjoy her post called
The Story Behind the Story
, of two young Christians who sought to honor God in their physical relationship before marriage.
It's Wednesday and it's time to pray! I love to set Wednesdays aside to pray for anything that's on your heart that is not confidential. Just post it in the comments section. I also welcome Christian bloggers to post a blog link of your wholesome passions! Keep shining for Jesus!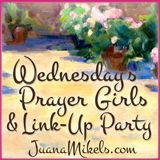 Walk by Faith,