I was thrilled yesterday to be able to hear & meet David Platt! He is a man of deep conviction for the Gospel to make a tangible difference in the lives of evangelical Christians in the world today through urging us to take a stand against the social issues of our day.
May I add that David is an adorable husband and father?
Speaking of adorable, I went with my precious friend, Henni, to hear David speak.
It was a glorious morning of praise & hearing from God's Word.
Henni & I went to a tea room & enjoyed sweet fellowship together
reflecting on what God had put in our hearts.
David's passion, hope, zeal and urgency for the Gospel of Jesus Christ radiated from his countenance as his voice even cracked with emotion as he challenged the several hundred Christians that were gathered on issues where professing Christians and Christian leaders have been strangely silent.
He urged us to take the same Gospel—which burns in our hearts and compels us to speak against the horrors of injustices like the concentration camps, poverty, starvation, orphans, sex trafficking and slavery—to stand in direct opposition to the moral disasters of today of abortion, sexual immorality, and so-called "same sex marriage."
David gave us 4 Biblical principles drawn from the book of Genesis to show that followers of Christ do not have the option of being passive and silent on these social issues. He was particularly concerned about the lack of zeal among younger evangelical Christians (although not exclusively younger Christians) against these morally disastrous social issues.
I taped David's entire 45 minute talk and hope to get that out to you next time, to encourage you to not be silent on these issues in your life, but to take a clear stand to protect the unborn, socially accepted pornography (and worse), and marriage—just as you would if you lived in the days of the atrocities of the German concentration camps or the culturally accepted days of slavery in the South.
I'll give you those 4 Biblical foundations David gave us from Genesis next time, along with the entire talk to the professional video. Be prayerful for God's courage to help you receive and then stand up for Biblical truth!
Listen to his five minute introduction and challenge to Christians!
It's Wednesday and time for Wednesday's Prayer Girls and Link-Up Party!
Before we begin, I wanted to mention that I'll be giving away two gorgeous ceramic prayer bowls made in Portugal for
www.PrayerBowls.com
in September! Be sure to follow my Pinterest Page
here
, or my Instagram
here
so you don't miss entering the drawing to win one of these beautiful bowls to hold your prayers for others (newcomers may want to follow my blog
here
).
Isn't this prayer bowl lovely?
Mine sits on my kitchen table where we can easily pray for others after we eat.
Christian bloggers are invited to share your blog link below on topics such as Marriage, Parenting, Christian Living, Prayer, Recipes, Homemaking, Organization, Books, or any topic you are passionate about! If any reader has a prayer request (non-confidential) I'd love to pray with you in the comments section below.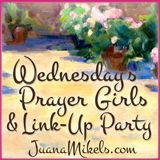 Enjoy visiting what other Christian bloggers are writing about!

Walk by Faith,