For those that live in the Fuquay-Varina, North Carolina area, I'll be speaking there next Tuesday, September 24, for Priority Associates at the Bentwinds Country Club. They still have room if you would like to join us for lunch at 11:30 a.m. The event is over at 1:00 p.m.

I'll be giving my testimony of how I came to faith in Christ, how God gave us a second chance at our marriage, and God's grace in the birth of our fourth child who was born totally blind.
I'd love to meet you there!
☺
To register, contact:
Priority Associates
Registrar: Faye Johnson
919.552.3763
Today is Wednesday, and it's time for Wednesday's Prayer Girls and Link-Up Party!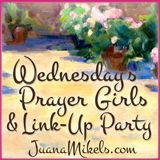 I love to pray for you on Wednesdays. Just leave your non-confidential prayer in the comment section below, and I will write you back there.
☺
For Christian bloggers, please share your blog link below! We'd love to hop around and see what you've been writing lately! Thank you for sharing what's on your heart below.
Walk by Faith,