Hi everyone! I missed you this weekend as I was away with my family with all four of our children with us. I'm back and ready to launch a fantastic Christian Giveaway today with you as we also host prayer here on my blog on Wednesday's Prayer Girls and Link-Up Party!
Everyone who has been reading my blog long knows that setting aside one day a week on the blog helps me to pray for your needs and for you to pray for one another!
That's why I was really excited to offer you this lovely prayer bowl from Tom and Karen Berry of
PrayerBowls.com
.
Karen had been very sick several years ago. Family and friends prayed for her, and even some strangers. One stranger prayed daily for Karen for over a year by placing her name on a card and placing it in a bowl as a reminder to pray for her. Karen liked the idea so much, that she made a distinctive bowl for herself and a few others. That's how PrayerBowls began.
They created these lovely ceramic bowls from Portugal to facilitate your praying for others. Isn't it beautiful? They actually have two styles and have provided one of each for our giveaway!
You simply write out the prayer for a specific person and place it in the bowl. I find that placing the bowl on our kitchen table makes it easy to remember to pray for them.
Here's how to enter to win:
Leave a one sentence prayer of thanksgiving in the comment section below with your first name and last initial before this link-up closes next Monday, September 9, at 11:59 PM, EST!
Two winners will be randomly picked & announced on next Wednesday's Prayer Girls (Sept 11)
Re-enter drawing for each time you share this blog link (& tell me so:-) on Pinterest, Facebook, Twitter, or Google Plus!
It's time for Wednesday's Prayer Girls & Link-Up Party!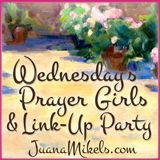 Bloggers, enter your link to your Christian Blog below! To enter to win this beautiful PrayerBowl, enter something you are thankful for as a prayer to encourage someone else

in the comments section

below! I've entered the first one for you!
"Do not be anxious about anything, but in every situation, by prayer and petition,
with thanksgiving, present your requests to God." -Philippians 4:6
Walk by Faith,