I hope everyone had a wonderful Easter and was able to be in church with God's people for a joyous Resurrection day!
Let's pray for one another today! Be sure if you are a blogger to share your blog (just put your site in the comments section, soon I will have Link-up software that will show a thumbnail picture of your blog). You may list praises in your life or prayer requests in the blog comments below my signature! It is a joy and a privilege to pray for one another.
"...pray for each other so that you may be healed.
The prayer of a righteous person is powerful and effective."
Be sure to update us if you left one last week!
I'd love for you to share my button above about Wednesday's prayer on your blog sidebar. You will find the HTLM code for my button on my right sidebar on my home page.
Here's how to add my button on your page if you have blogger software (it is probably similar if you use another blog platform, but I am only familiar with blogger). Go to your dashboard page that controls your blog. Select the item marked "layout." Once on your blog layout page, click "add a gadget." A list of options comes up, and choose, "add HTLM code." Copy the code and paste it into the box that appears on my home page under my flowery badge on the right side bar that says "Wednesday's Prayer Girls & Share Your Blog") :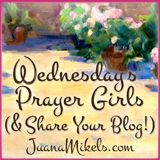 After pasting the code into the HTLM box, my flowery button should appear on your home page of your blog just as it appears above when you refresh your blog page. Thank you so much for spreading the word about our Wednesday prayer by posting my button on your blog!
Let's continue to pray for on another.
I'll do the first one, and you are next!