Welcome everyone to Wednesday prayer on my blog! Last week I went live with my first Link-up party and offered a giveaway of a new leather-bound copy of Nancy Leigh DeMoss' Daily Devotional, "The Quiet Place."
I asked my daughter,
Mary
, to pull one name out of a basket of each person's name who left a comment or did a link up post last week.
And the winner is ........
Jana Hagan!
Congratulations Jana! Just email me your physical address to juanamikels(at)gmail(dot)com.
It's time to enter your prayer requests in the comment section below. It's my joy to pray for you, and for readers to pray for one another. For those of you that are bloggers, please list your blog in the link up section below! I'd love you to enter my Wednesday Blog Button on your blog or a link to my post, but it is not necessary!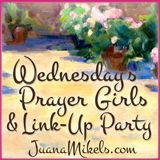 The Link-Up below is really easy! I did the first one, if you are a blogger, please share your exact link below that you want to post after clicking the words below
to get started click here
! Below the link up thumbnails, you will see the comment section. Share your prayer there! We all need prayer, share yours! I did the first prayer for you, too.
Enjoy visiting the blogs below, and consider encouraging the blogger by leaving a comment!
Walk by Faith,