Well, Girls (& we have a few guys)! I had a story to tell you today about being a new creation in Christ and how I went from getting my husband a food processor for Christmas (he didn't cook) to getting him a Golden Retriever which we loved on for 17 years. But unfortunately, no time to tell it.
I'm the Choral Boosters President for my daughter's school, and tonight is our first meeting. If you get this on Tuesday night, Sept 16, will you please pray that the parents will have a desire to help and give? I am praying that God will cause a great abundance tonight above and beyone what we ever could have done in our puny human efforts. I look forward to coming back and reading your prayer requests in the comments, and praying for you. The story next time, I hope!
No time for me to even check if the link up post works! Praying it does!
❧ ❧ ❧ ❧
❧ ❧ ❧ ❧ ❧ ❧ ❧ ❧ ❧
❧ ❧ ❧ ❧ ❧ ❧ ❧ ❧ ❧
Wednesday's Prayer Girls & Link-Up Party!
Each Wednesday I like to offer to pray for your non-confidential prayer request or praise in the comment section below. Please enter a prayer if you would like me to pray for you (and pray for one another!) and I will be reading your prayer and lifting up your request as I read it, or if you just have a comment (click the word "COMMENT" located below my signature below, under the colorful social media
sharing squares:-)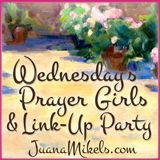 If you're a Christian blogger, we all would love to see what you've been writing! Enter your blog link below to join the party!
For readers, enjoy the blog party below!
♥ ♥ ♥ ♥ ♥ ♥ ♥ ♥ ♥ ♥ ♥ ♥ ♥ ♥ ♥ ♥ ♥ ♥ ♥ ♥
I'd love to connect with you on your favorite spot:
It is my delight to pray for you!
Remember, God desires us not only to be a believers, but to be wholehearted disciples of Jesus Christ! May we listen to Him daily through His word, and obey Him!