Two people are going to be excited to be the winners of the beautiful ceramic prayer bowls from the good people at
PrayerBowls.com
! We just pulled two names out of the hat. The winners are:
You will each be receiving a lovely scripture bowl with prayer cards!
Tracey K. and Cflegette, email me at juanamikels(at)gmail(dot)com to claim your lovely prayerbowl, with your complete mailing address! Tom and Karen Berry, the owners of
PrayerBowls.com
are going to mail your gift directly to you. You are going to love it!
Those who did not win, don't feel discouraged! Check out the bowls at
PrayerBowls.com
. I have some good news for you. Remember the book
Passion Pursuit
, from this summer's giveaway by Dr. Juli Slattery and Linda Dillow? Moody mailed me two more yesterday, so we will be pulling 2 more names from this summer's entries! More soon on that, and how newcomers can enter.
☺
It's Wednesday and that means it's time for
Wednesday's Prayer Girls and Link-Up Party!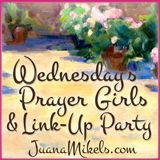 If I can pray for your non-confidential prayer request, please leave it in the comments below, and I'm happy to reply to you there and pray for you. I did the first one for you!
If you're a Christian blogger, please share one or more of your blog links below so everyone can enjoy hopping around your beautiful blogs. We'd love to see what you've been writing about!
Walk by Faith,