"Prayer is to intercede for the well-being of others before God." -St. Augustine
"Intecessory prayer is the purifying bath into which the individual
and the fellowship must enter every day." -Dietrich Bonhoeffer
Think of it! Through prayer, God invites us to cooperate with Him in being involved in the details of someone else's life, by laboring for them in prayer! What an awesome invitation!
Richard Forsyth in his book,
"Prayer: Finding the Heart's True Home,
" tells the story of an old woman who was confined to her bed. She had a photo album of over 200 missionaries that she prayed over during the course of the week. She would pray over each picture from her bed. Stories like that motivate me to want to increase my work in prayer for others. What a picture of a heart growing in love for those prayed over?
When our children were small, we made a prayer photo book. I remember my little son John once saw a picture of a fake family in a Sears clothes ad, and he wanted to pray for them! I couldn't help but smile, because of days of praying for people over their photos had become a part of him!
And do you know the story of the Myong-Song Presbyterian Church in Seoul, Korea where 12,000 people pray between 4:00 A.M. and 6:00 A.M.?
Will you consider praying over each thumbnail pictured below to pray for each Christian blogger? You, like the old woman above, can grow in love toward others who may be far away, yet close through Christ in prayer! "If we truly love people, we will desire for them far more than is in our power to give them, and this will lead us to prayer."(Forsyth)
Happy Wednesday to you! It's time to pray for one another. Don't feel like your needs are too small. There is no prayer that's too small or too big! It is a blessing to pray for your non-confidential prayer request, or to praise with you over the blessings you've experienced in the last week or month. Just post it in the comments.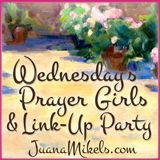 If you're a Christian blogger, I'd love to invite you to share your post on any topic below. It can be on Christian living, marriage, parenting, homemaking, organization, books, gardening, devotions, or any of your passions from a Christian perspective! I've been visiting with my sister this week while Mary is at Camp for the Blind. We've had the best time watching old movies together. We're about to watch Random Harvest—one of her favorite movies.
☺
I'll meet you back here this week. Coming Soon: Valerie Shepherd's wonderful new children's book on her jungle childhood as the daughter of Elisabeth & Jim Elliot (don't miss this!), a special person that we met, great books I've been reading this summer, a free book Giveaway coming from Moody Publishers on my blog and more!
"My house shall be a house of prayer." Luke 19:46
Walk by Faith,