It's Wednesday and I want to give you a chance to leave a nonconfidential prayer request in the comment section below, and it's blog hop day!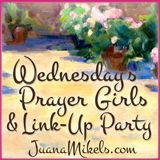 If you're a Christian blogger, please link up with one of your wholesome posts on your passions! Because some bloggers may be on vacation, I'm extending last week's link up, but feel free to post another blog link!
For those of you that live in America, Happy 4th of July tomorrow! I hope to post some pictures tomorrow at the small town parade where we are! For those of you close to a library who have young children, you may want to read Alice Dalgliesh's great short book on the 4th of July!
After the Declaration of Independence was read out in the yard of the State House in Philadelphia (later called Independence Hall!), all the people cheered and the Liberty Bell rang out! All the bells in the city kept ringing out and they rang out all day until that night!
Did you know that the Liberty Bell has Leviticus 25:10 inscribed on it?
"Proclaim liberty throughout all the land, Unto all the inhabitants thereof!"
Let's praise God that we live in a country where we can openly worship the Lord God! Let's praise Him that countries like Albania, that were once closed to Christian literature in their country not too many years ago, are now open! Let's pray today for the underground church in closed countries, who do not live in freedom to worship our Creator God in freedom.
Walk by Faith,